American EV company Fisker has confirmed it will launch in the UK in early 2023 with a right-hand-drive version of its new Ocean SUV, which will be offered exclusively through a subscription service managed by Onto for the first 12 months of UK availability.
The brand plans to supply Onto with up to 700 Ocean SUVs that will be accessed by customers via an all-inclusive monthly payment through, similar to the fully-comprehensive subscription Audi offers via Onto for the e-tron SUV. Insurance, public charging and servicing is all included.
The brand will open a 'Fisker Experience Centre' in London for a bit of showroom presence in 2022, while the reveal of the production ready Ocean is due to take place at the Los Angeles Motor Show this November.
The Fisker Ocean is already on sale in the USA with prices starting from $37,499 (roughly £27,000) before local taxes or any electric car subsidies. Buyers can reserve a build slot for a refundable deposit of $250 (£180), with the first cars expected in showrooms next year. Specifications for the base model have not been revealed, and Fisker will announce more details on the Ocean line-up later in 2021.
Previously, the company had revealed that the range topping Ocean model will use an 80kWh battery pack, offering between 250 and 300 miles of range. These high-spec versions of the new electric SUV can recover an 80 per cent charge in around 30 minutes from a DC charger, and even 350kW charging technology has been touted.
Models at the top of the Fisker Ocean range will feature an electric motor on each axle, giving the SUV a combined output of 302bhp. An entry-level, rear-wheel drive variant is also in the pipeline, although the company is yet to confirm its specifications. However, it will probably use a smaller battery pack and arrive with a much smaller working range, if the price tag is anything to go by. Later in the car's life-cycle, Fisker may even launch a high performance version with a sub-three second 0–60mph time.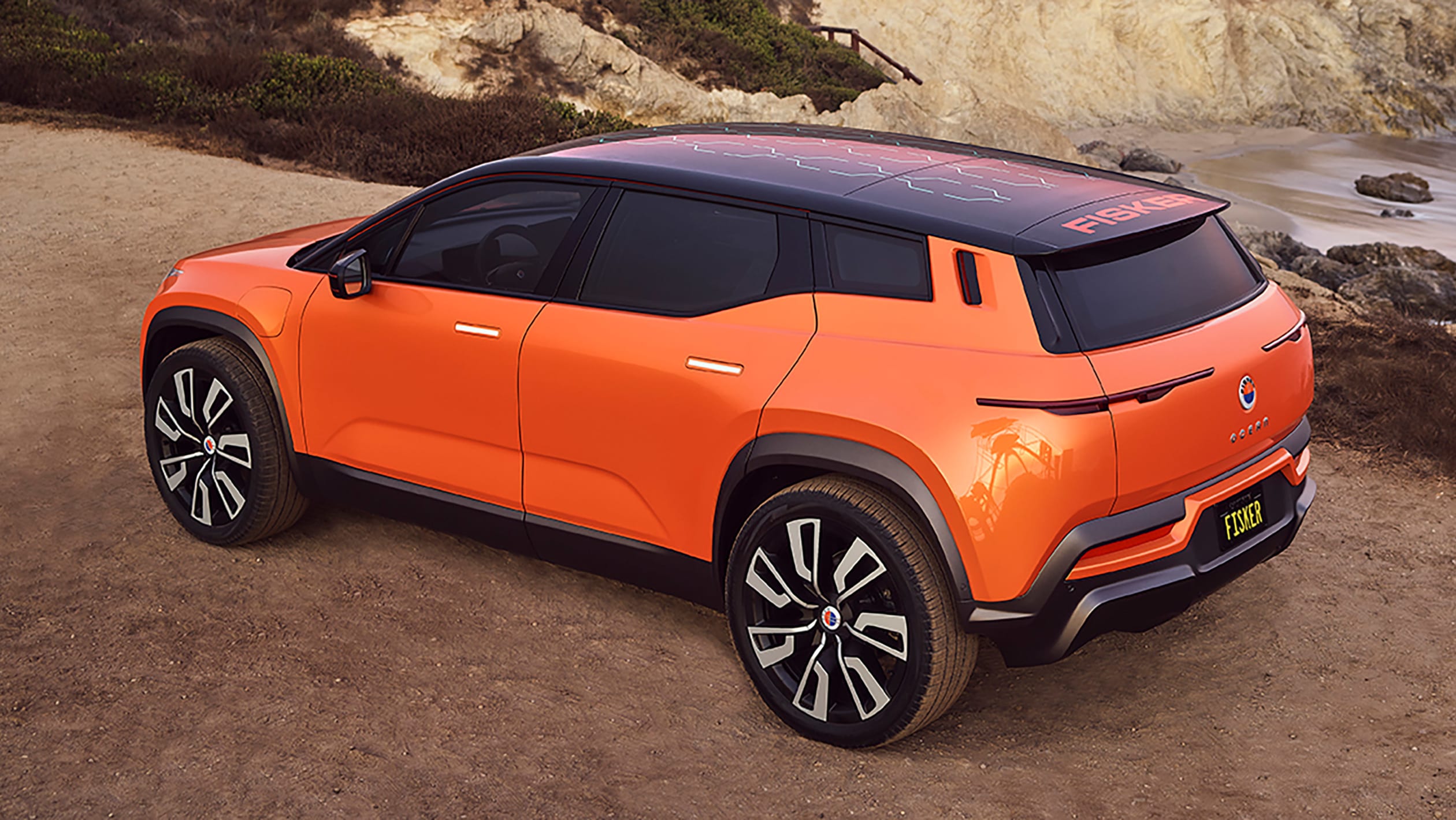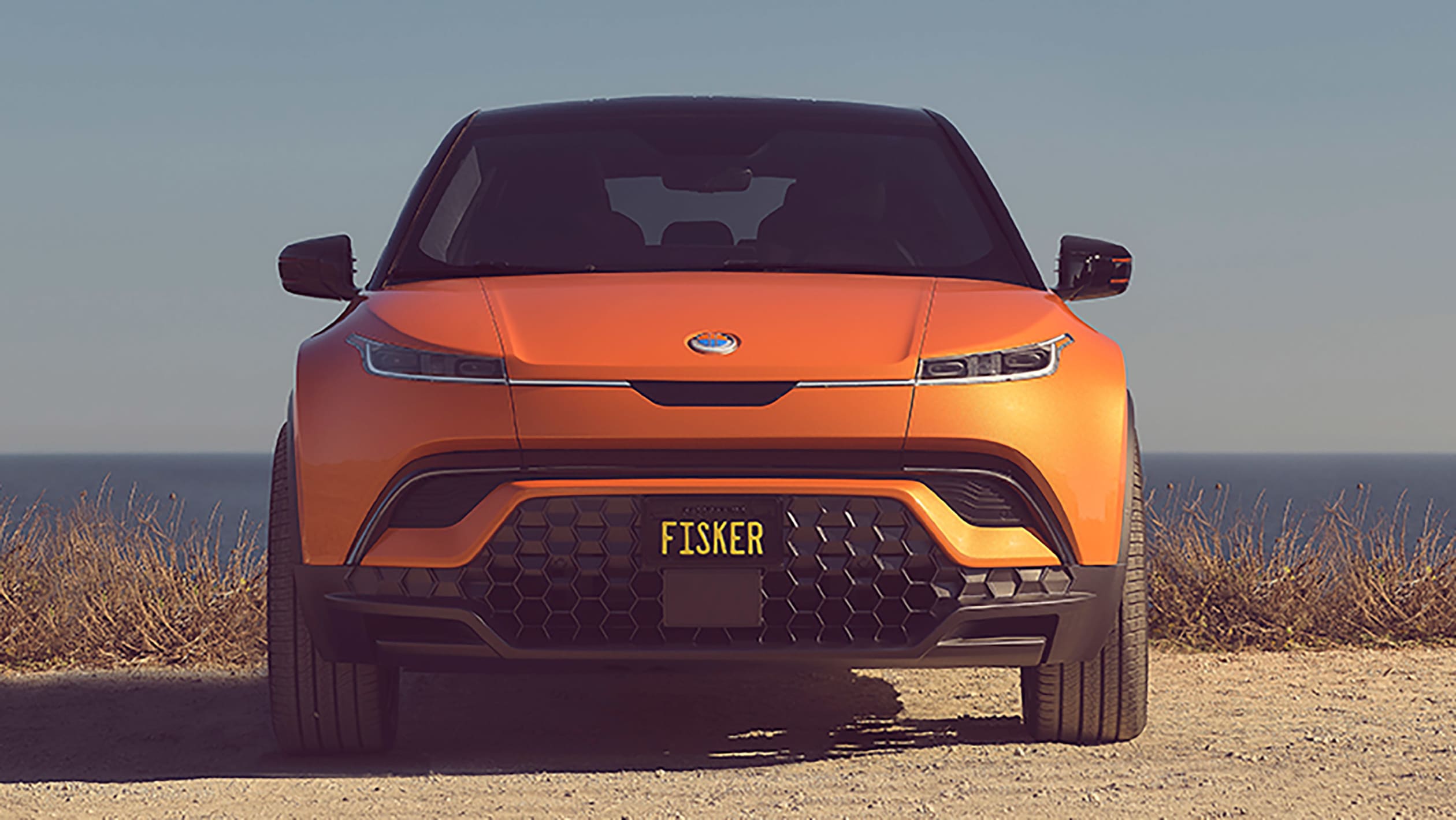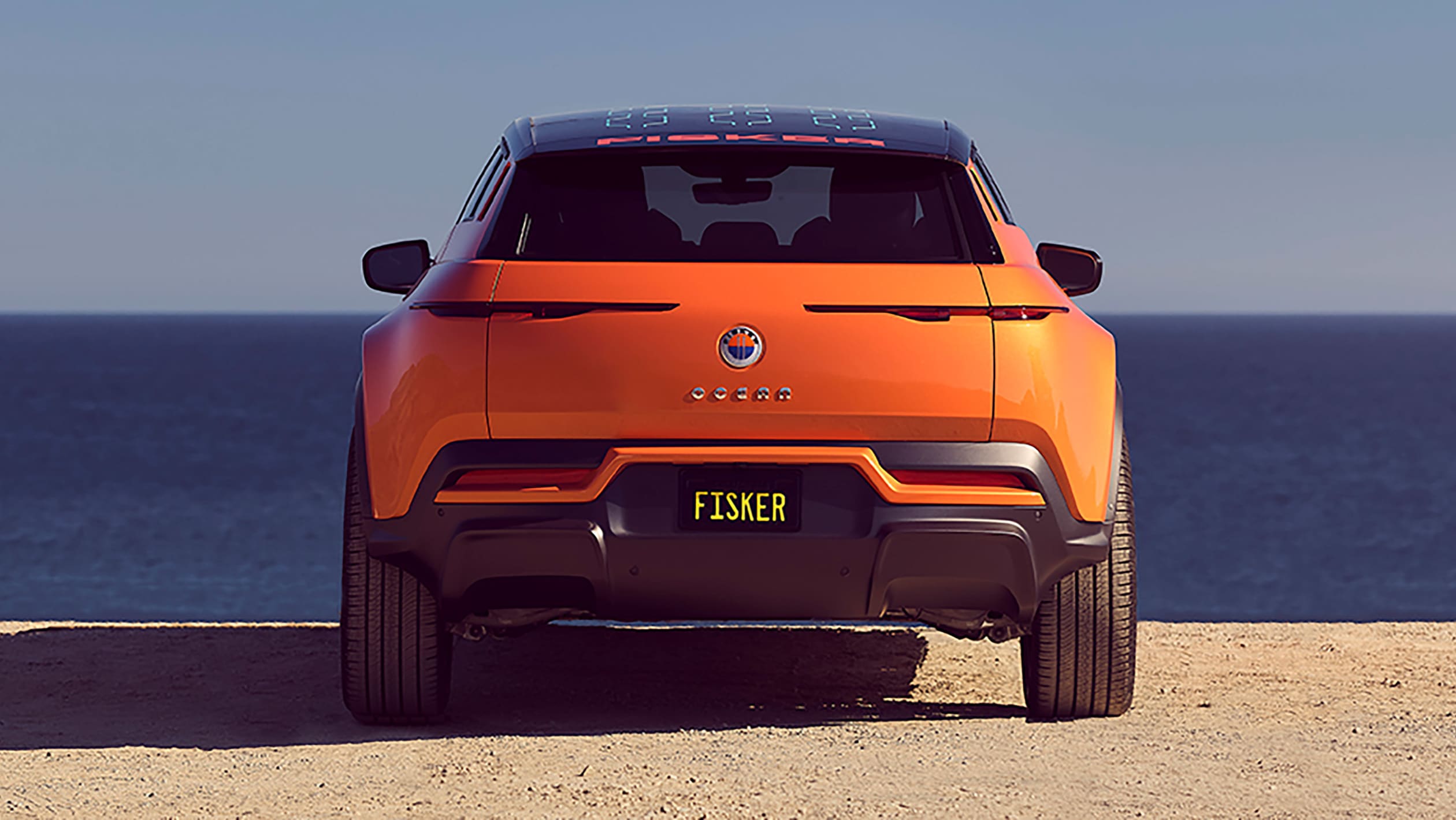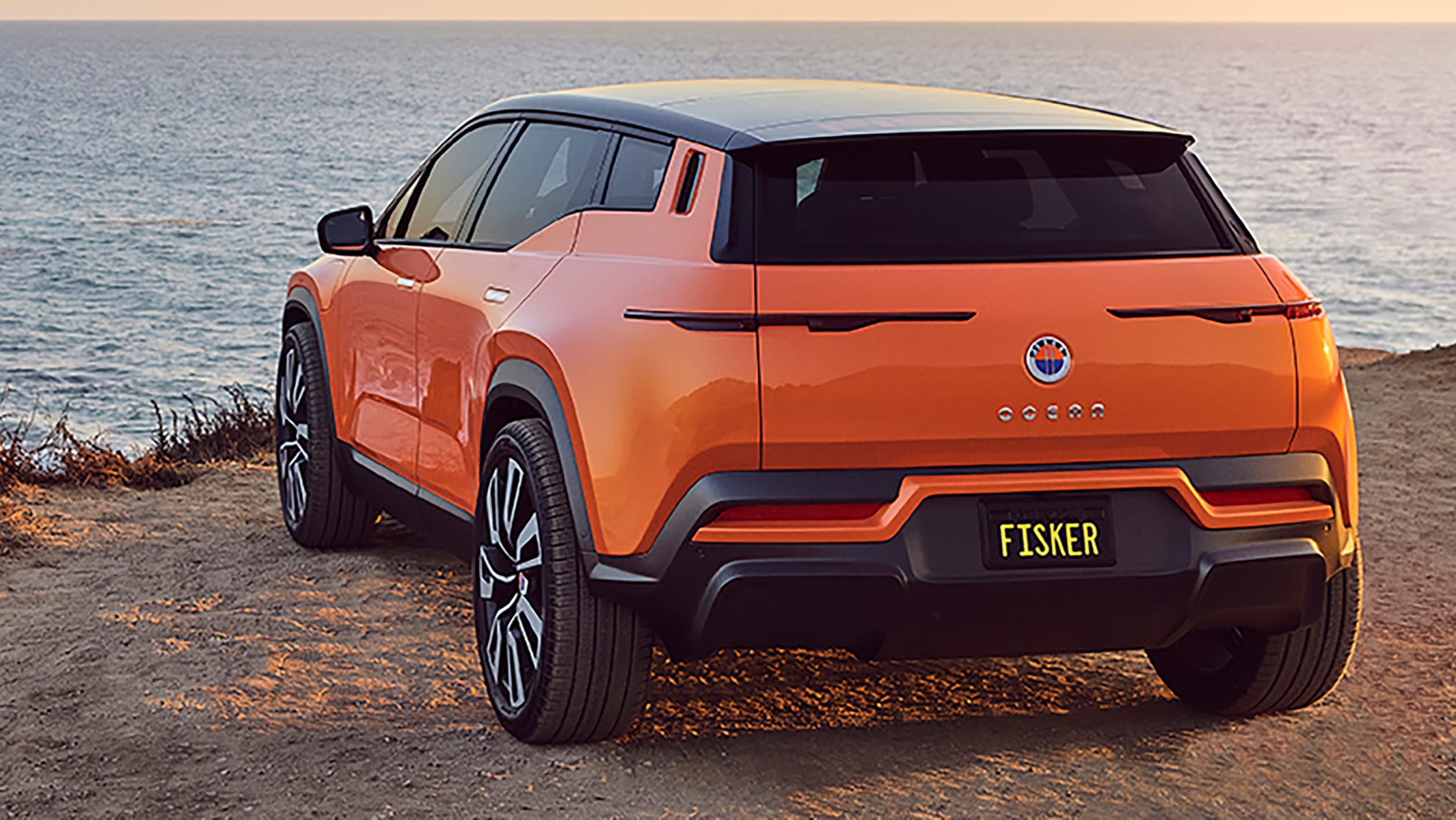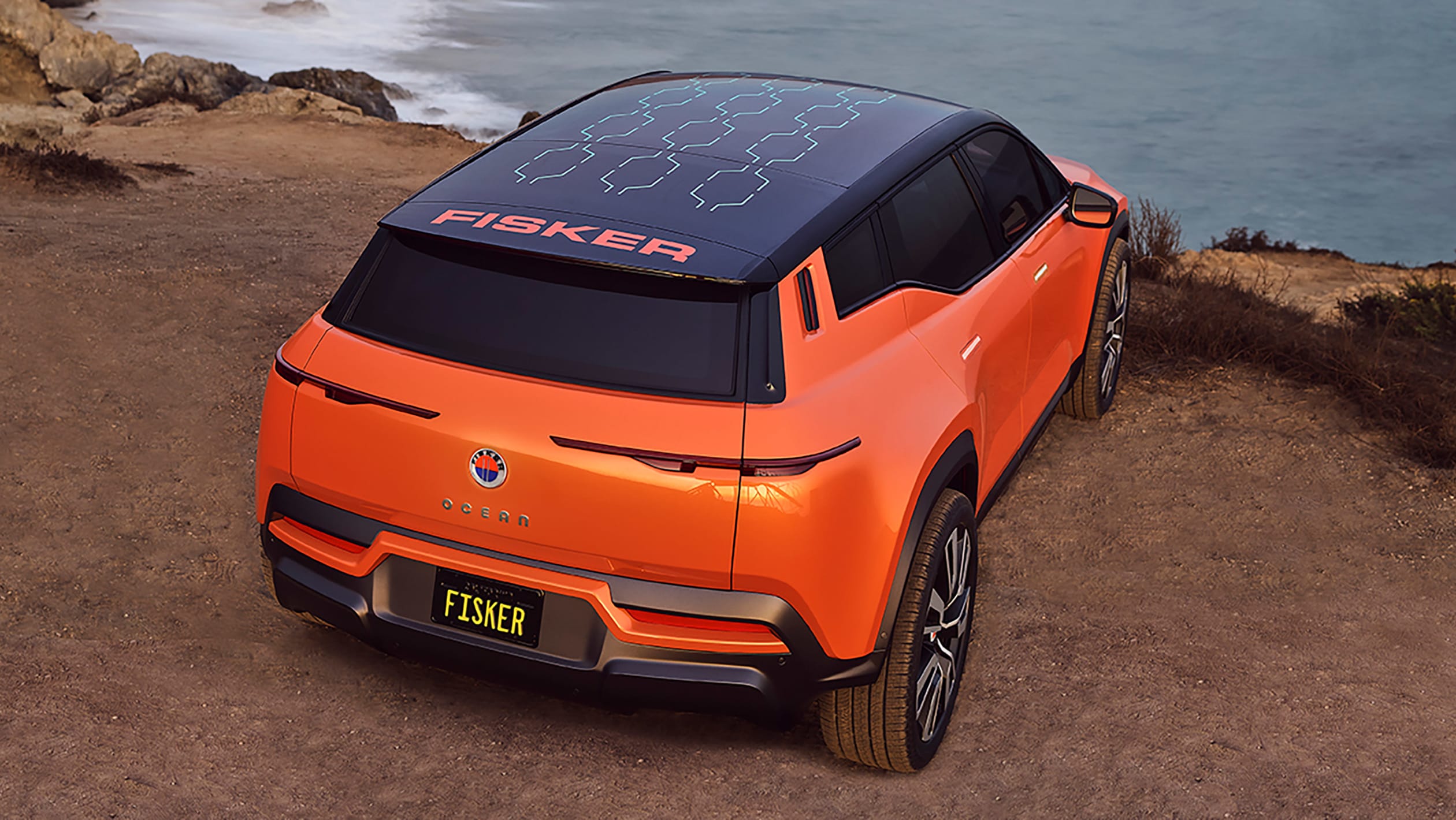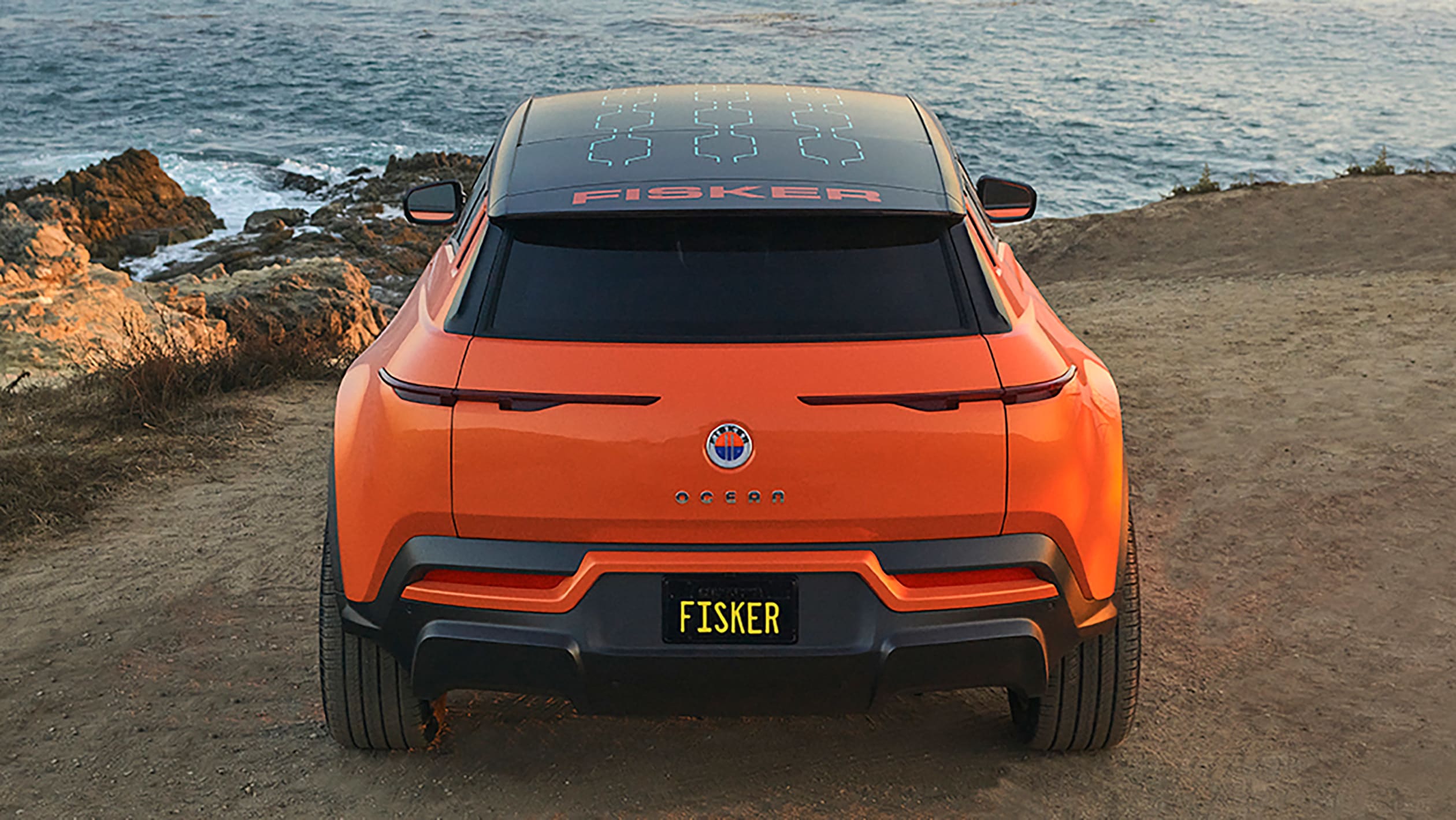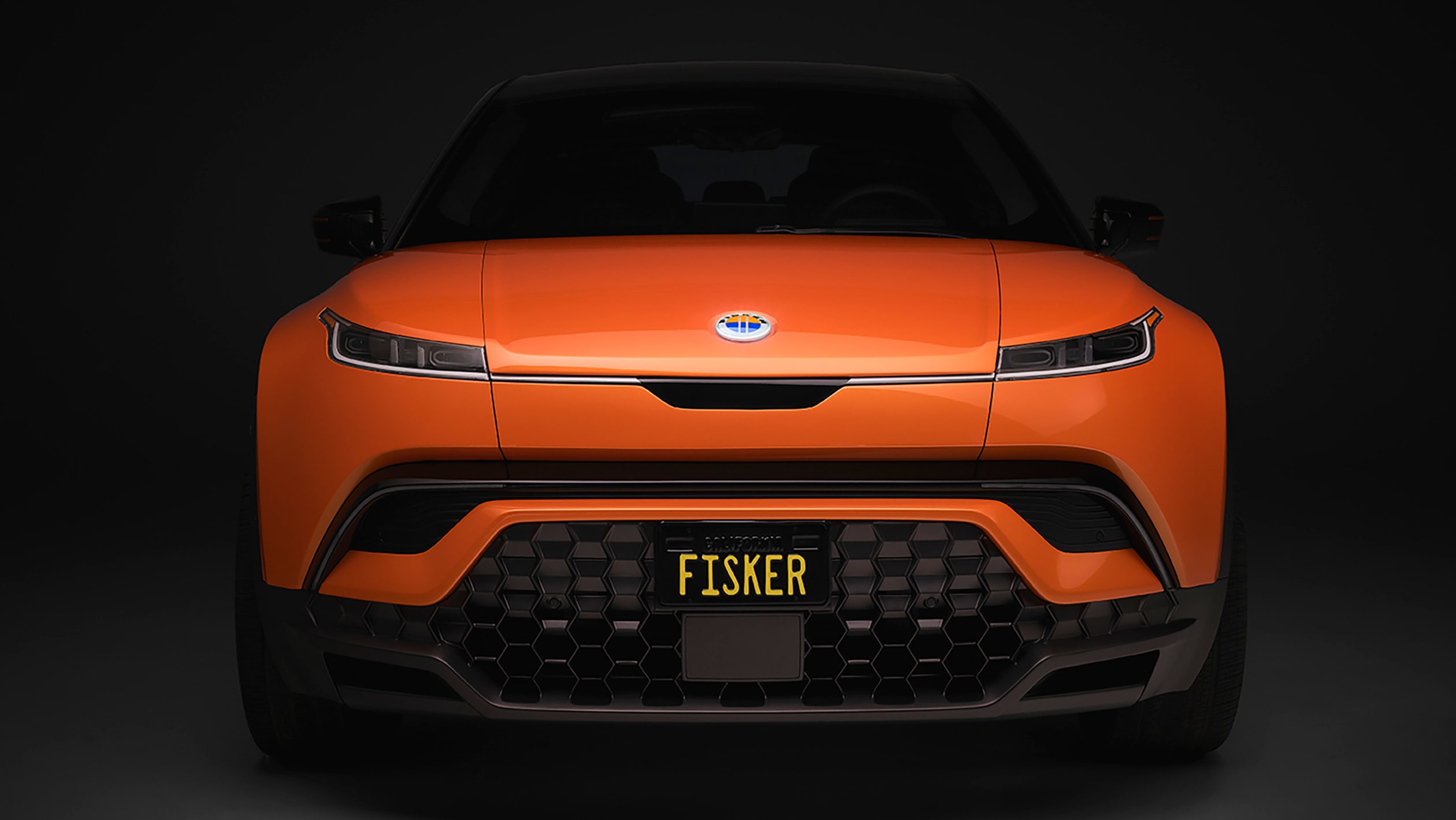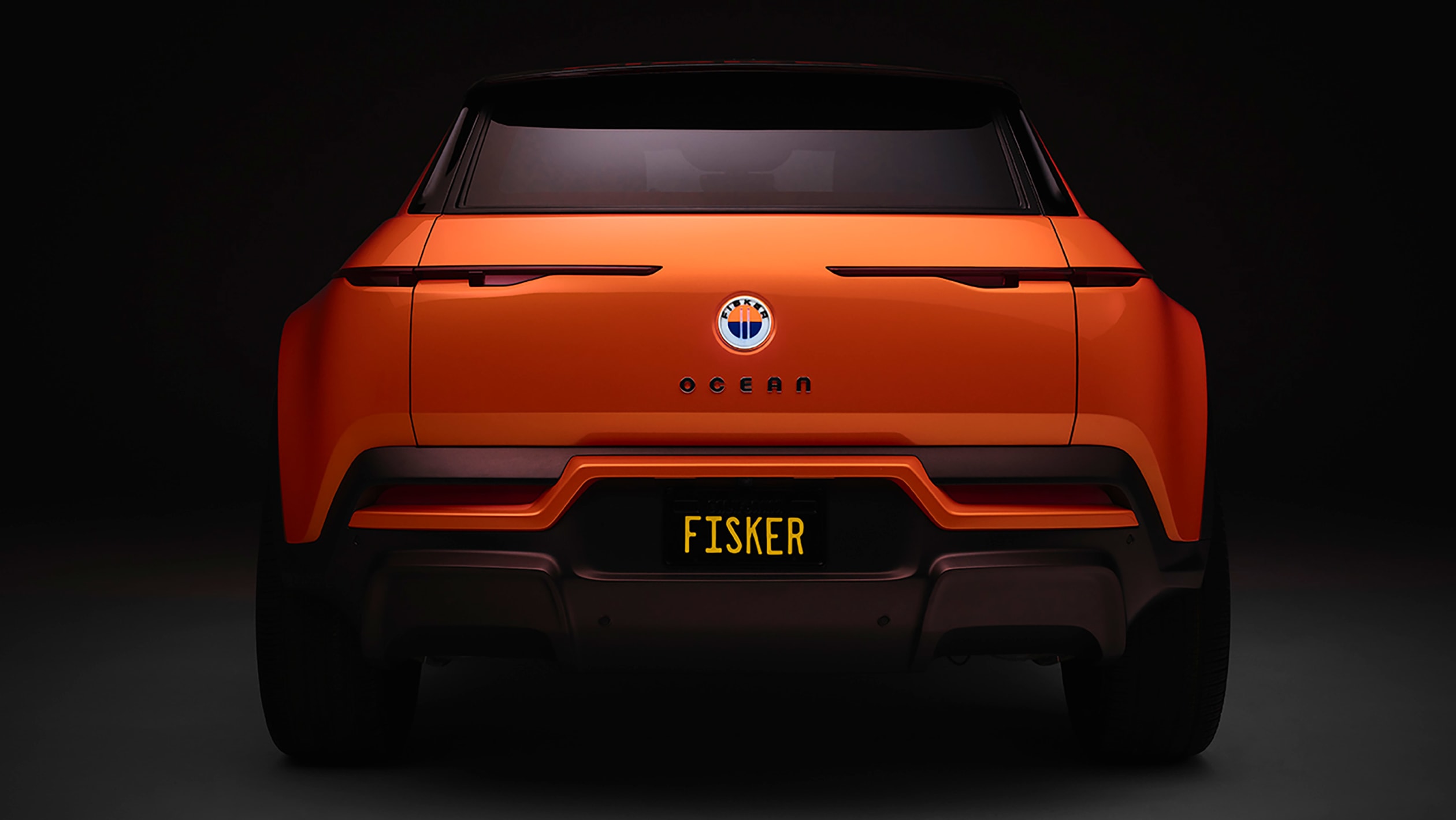 Fisker Ocean: design and interior
Fisker says the Ocean has been designed to be as sustainable as possible. The car's seats are trimmed using recycled polyester fibres, while its interior carpets are made from recycled nylon, sourced from abandoned fishing nets.
The Ocean's roof also features a solar panel, which drip-feeds the SUV's battery pack. Fisker says it will utilise the discarded rubber waste from tyre production for several components in the Ocean, which prevents the offcuts from going to landfill and ultimately lowers the SUV's carbon footprint.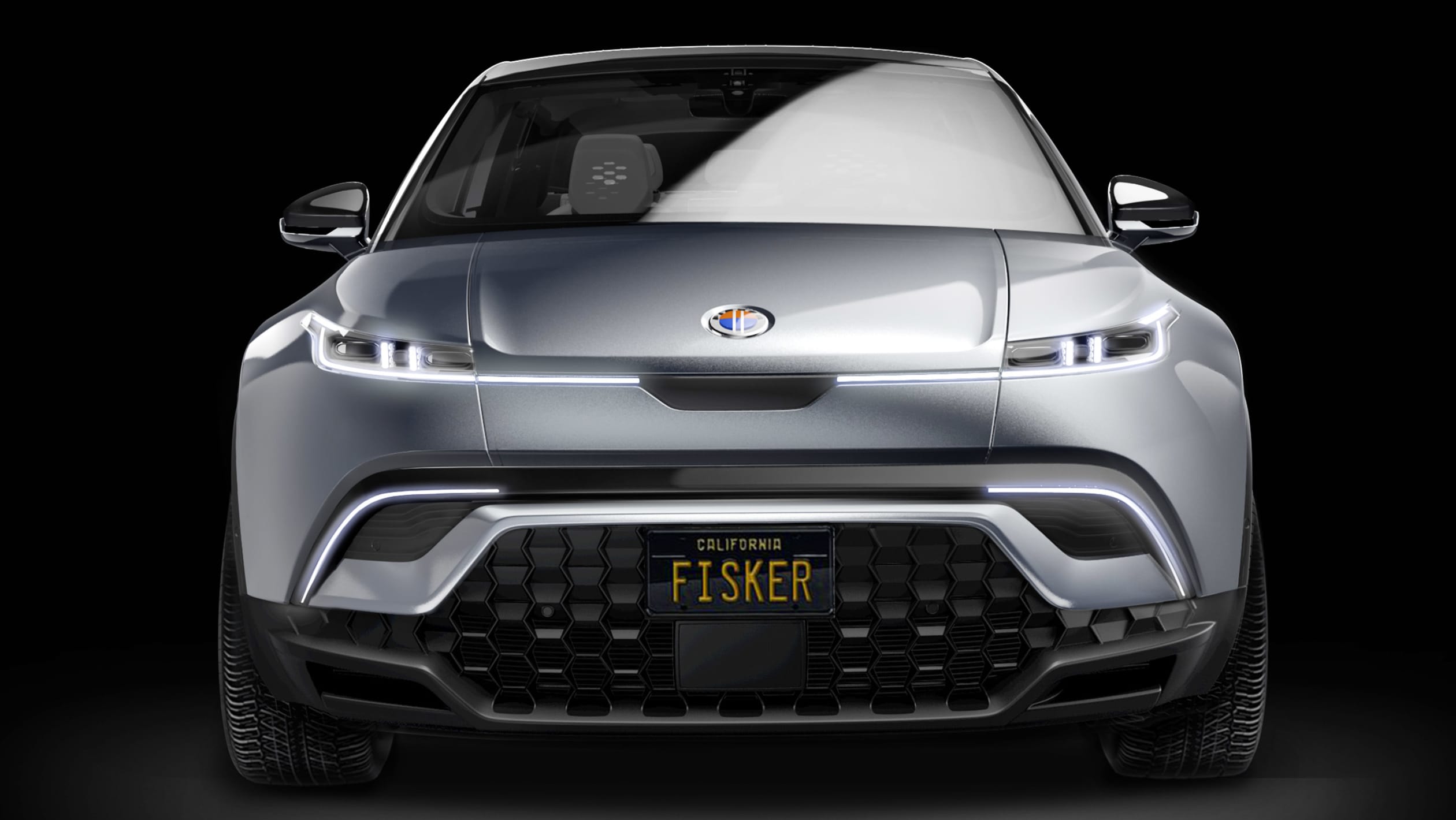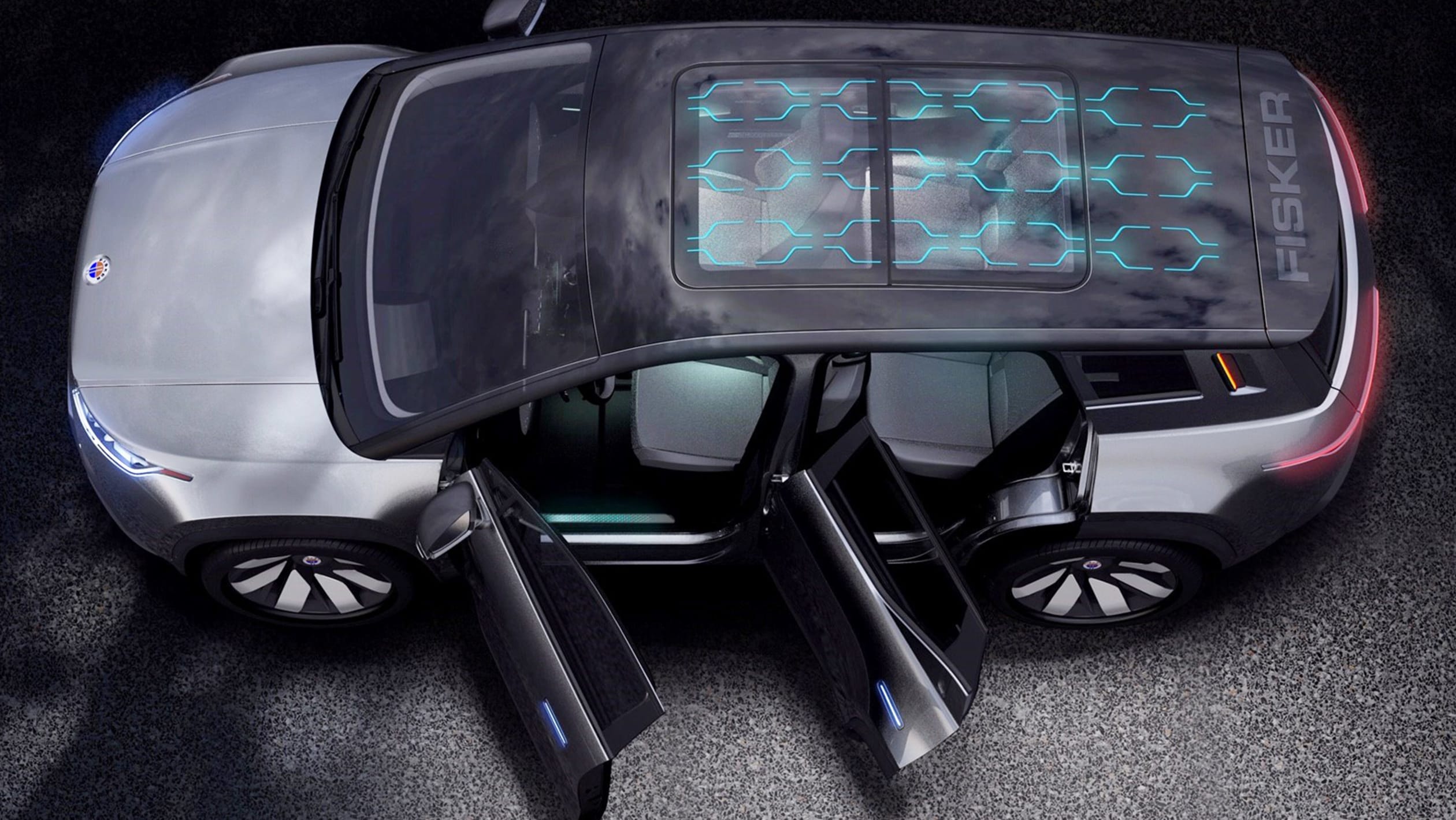 To save money and weight, the Ocean's bonnet has been fixed shut. The space gained under the nose houses the SUV's electronics and a next-generation, ultra-efficient air-conditioning unit, which Fisker says increases the amount of available cabin space.
The Ocean is based on Fisker's new FM29 platform, which has enough space over the rear axle for a third seating row. The company says the cabin has been designed to seat five adults, though.
Buyers will get a 9.8-inch digital instrument cluster, a head-up display and an enormous 16-inch infotainment system, which offers support for Apple CarPlay and Android Auto. Fisker also says it plans to include an augmented reality navigation system, although the specifics of the hardware are yet to be confirmed.
Entry-level cars will come with 20-inch alloy wheels, while range-topping models will feature 22-inch alloy wheels. The Ocean will also come with a range of practical extras, including a tow-bar, roof-rails and a retractable rear screen, which allows oversized items to be carried in the SUV's boot without the need to leave the tailgate open.
The Ocean will also come with a setting called "California Mode," which lowers the SUV's side and rear windows to provide what Fisker calls "open-air" atmosphere in the cabin. It'll be fitted as standard across all of the car's option packages, although it won't be available on the base-model.
Source: autoexpress